---
---
Note: For now, GD-77 only ship to US, UK, EU country, no inventory in other warehouse.

▸ Dual Band & Dual Time Slot -The newest upgraded software and firmware have added: Add VFO, Contact ID (expanded from 256 to 1000), Scan list (expanded from 16 to 64) & Channel list (expanded from 16 to 31), DMR ID Database, Fix of lost Zones bug and upgraded RX audio quality. GD-77 DMR two way radio has both Tier I & II and is compatible with Motorola and other DMR radios. Official Certification: FCC ID: 2AN62-GD77; CE ID: AGC10624170902ES01

▸ Larger Capacity Li-Ion Battery - This radio is equipped with a 2200mAh Li-ion Battery. Up to 18 hours working time as well as 48 hours of standby time. This is 30% longer than other DMR HT's. It feels really good in the hand - and is solid but not too heavy. It has crystal clear audio and it's easy to program.

▸ USB Port Charger or Wall charger - A USB port charger or a wall charger are supplied with this radio. For USB port chargers, please note that the USB port and charger adapter can only work with a radio requiring 12V input.

▸ More Operations Available via Keypad - Channel name, TX & RX frequency of a channel, display or hidden frequency, channel number, etc. All these can be modified through the keypad of GD-77. You can program one of the side or top keys to change zones. A big time saver.


GD-77 FAQ:
English Version Spanish Version Catala Version
Radioddity GD-77 User Guide Informative Links
Download
---
Radioddity is always trying to learn what buyers truly want.
 
About GD-77:

Radioddity GD-77, as a DMR with Dual Band and Dual Time Slot, is ready to meet our customer's various needs. Featuring 5 W High Power Output, Dual Band, Dual Time Slot, a 2200 mAh Battery, GD-77 is trying to come out as the most cost-effective DMR HT on the market, with both solid constructing in hardware and easy to use programming software.
When will you need this?

GD-77 enables you to keep in touch with others when mobile phones are not able to function.  It is multifunctional — can be used in outdoor activities, school, construction sites, property management, business occasions, hotel, hospital, etc. Radioddity GD-77 can deliver a quick response in any situation with crystal clear sound and you can use it when you need timely coordination or constant communication.
Highlights

1. Software is available in a beginner mode and with an expert mode upon request designed for Amateurs/Hams (Password needed) with extended features.
2. Frequency/ID displayed on the screen: You can choose whether to display the frequency or ID on the screen via keypad setting.
3. Digital and Analogue Mode Convert: Please kindly note that Digital/Analogue Mode can only be turn ON/OFF via programming software.
4. Point to Point repeater function: You can use separate time slot in Group Calls.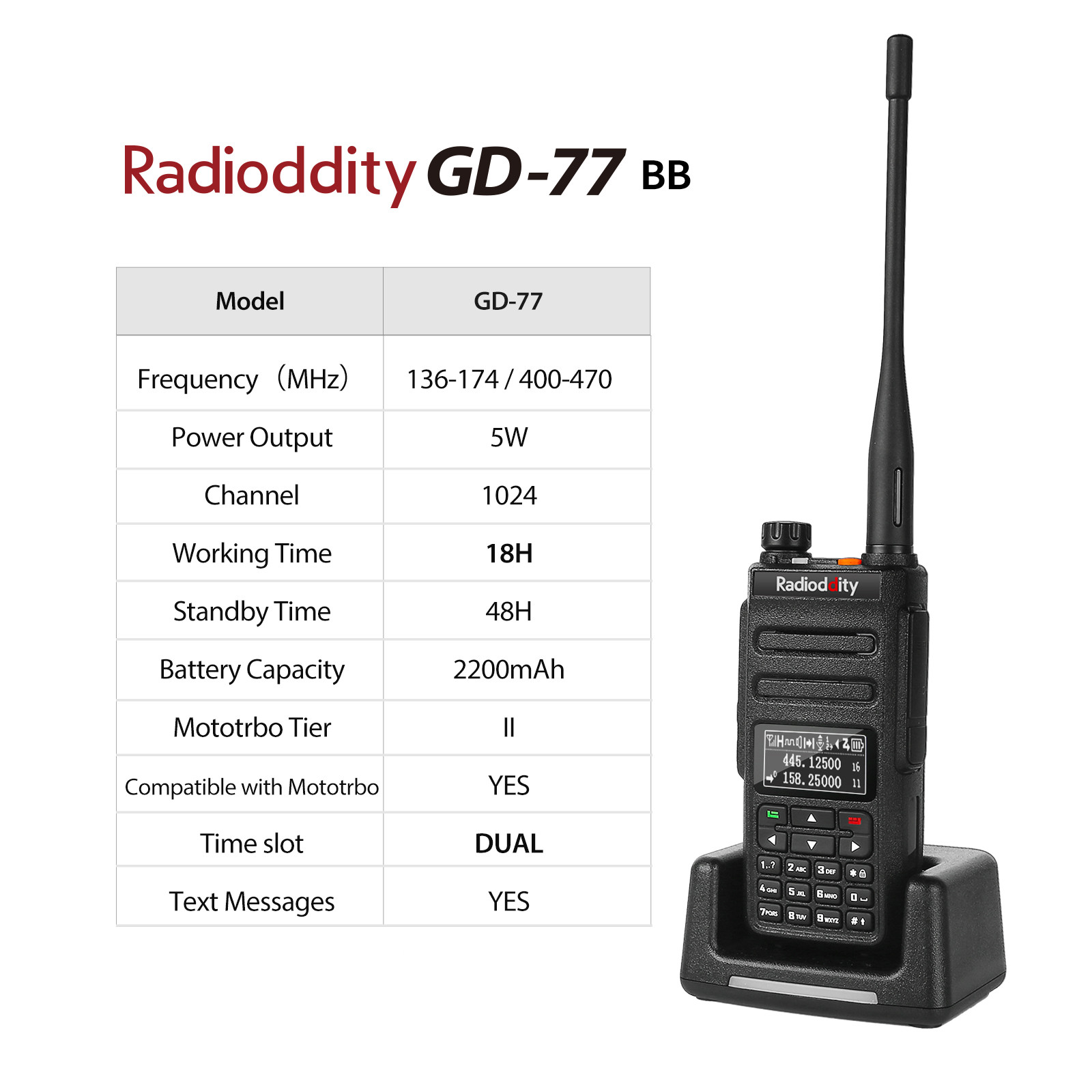 Features:
✔ Invert Color Screen: Radioddity collect many GD-77 users' advice and have newly designed this new type GD-77 with invert color screen, more conciser and saving more battery. Screen will be no longer too bright for more comfortable using.

✔ Dual Band & Dual Time Slot: VHF 136-174MHz, UHF 400-470 MHZ; GD-77 has both Tier I & II and is compatible with Motorola and other DMR radios.

✔ High Capacity Battery: Up to 18 hours working time as well as 48 hours standby time, which is 30% longer than other DMR.

✔ USB Port Charger: We replaced traditional charger to USB port which leads to more convenient charging way—with power bank, car charger adapter, or just connect to your laptop's USB port.

✔ More operations available via keypad: Channel name, TX & RX frequency of a channel, display or hidden frequency, channel number etc., all these can be modified through the keypad of GD-77.
Main Functions:
    Programmable CTSS/DCS
    Squelch
    Buy Lock
    TOT
    VOX
    Encrypt
    Password Lock
    Radio ID
    Scan
    Up t0 250 zones
    Busy Lock
    Message
    Contact
    Emergency Alarm

More details:
Two Customizable Side Keys

Under the PTT button there are two side keys on GD-77. You can use programming software to customize them as hot keys based on your needs—Emergency On/Off, Scan On/Off, VOX On/Off, Repeater/Talk around, Zone select, etc (Up to 20 options). Once set, those features can be easily achieved when you press and hold or press and release the side keys.

Up to 5KM (3 Miles) Talking Range

Although GD-77 is only 3CM in body thickness, the talking range can be as far as 5KM (3 Miles) under most circumstances. There are other factors that affect the range of a two-way radio too such as weather, exact frequency used, and obstructions.
Please note that extended transmit time may lead excessive heat, affecting the battery lifespan.

Package Content:
1 x GD-77 DMR Digital Radio
1 x Dual Band High Gain Antenna
1 x Belt Clip
1 x Desktop Charger
1 x Battery
1 x User Manual
1 x Programming Cable+CD Software
Note:
The pictures are just concept images now.

1 Year and 6 months Manufacturer's Warranty.
• Radioddity's limited warranty applies to all BRAND NEW items sold by radioddity.com and other authorized dealers.
• This warranty is non-transferable and proof of purchase from us or an authorized dealer is required for warranty service.

What Does This Limited Warranty Cover?

We warrant that the Products are free from defects in materials and workmanship under normal use and use in accordance with the respective Product user manual, during the Warranty Period. Please refer to the Instructions inside each package for a description of proper use and care of the unit.

What Does This Limited Warranty Not Cover?

This limited warranty does not cover damages directly or indirectly arising or resulting from or during:

(1) accident, misuse, abuse, vandalism or acts of God (including lightning and other weather conditions)

(2) use with another product or other damage or loss suffered by the use or combination of any other item

(3) improper or inadequate maintenance

(4) repairs by an unauthorized service technician

(5) normal wear and tear

If you are satisfied with our products and service, please kindly leave us a positive product review. Any problem, be free to contact us support@radioddity.com
We strive to answer all emails as quickly as possible, but due to high email volume, it may take time for us to reply. Thanks in advance for your patience!
 
Order Processing
All orders will be processed within 2 business days after full payment is received. Tracking number will be updated as soon as it's available and be sent to our Radioddity Members. So We strongly suggest you register as a Radioddity Member. If the item you ordered is temporarily out-of-stock, you will be contacted by our customer service representatives. You can choose to wait for restocking or cancel the order.
Flat Shipping Rates
 
 

Economy

Express

Express (free)

Flat fee

Free

$4.99 for US, CA, DE, AU, IT, JP, NZ
$9.99 for other countries

Free when order amount ≥ $99.99

Ship from

➤ China warehouse

➤ China warehouse (DHL Express Shipping)
➤ United States warehouse (Las Vegas, New Jersey)
➤ Germany warehouse (Berlin)
➤ US/DE/IT/FR/ES Amazon warehouse

➤ China warehouse (DHL Express Shipping)
➤ United States warehouse (Las Vegas, New Jersey)
➤ Germany warehouse (Berlin)
➤ US/DE/IT/FR/ES Amazon warehouse

Delivery time

15-25 days

3-5 days

3-5 days
Note:
Customs fee not included. Please be noted that Express shipping from China to some countries might result in customs fee.
For Canada, items will be shipped from China.
How Do I Change The Shipping Address Or Cancel My Order
Contact support@radioddity.com immediately if you need to change the shipping address or cancel your order. Please be advised that some orders are shipped very soon after placement and it will not always be possible to make changes to the shipping address and/or cancel the order.